ABOUT CHICAGO SOUTHSIDE MAKER FAIRE:
The 4th Annual Chicago Southside Mini Maker Faire will take place August 6, 2016 at the Ford City Mall on the southwest side of Chicago. This event will showcase Chicago area makers with a focus on the diversity of people, thought, and making styles that makes Chicago an innovative city of deeds. Featuring makers of all ages and abilities, our goal is to produce one of the most diverse Mini Maker Faires in the world.
The Chicago Southside Mini Maker Faire is an officially licensed and locally organized event, organized by LevelUP Makerspace and the Chicago Museum of Science & Industry.
ABOUT AGAPE WERKS & CHICAGO KNIGHTS ROBOTICS:
Agape Werks is a community based organization committed to academic enrichment with a special emphasis on exposing the youth of Chicago to the opportunities that are possible if they investigate science, technology, engineering and math topics. Firmly rooted in the spirit of inclusion, Agape Werks delivers programs in areas of greatest need, but leaves participation open to all interested youth. Agape Werks formed the Chicago Knights Robotics (a 4-H SPIN Club) as a community of youth interested in exploring robotics and related activities for competition and for fun. Youth engaged in Chicago Knights Robotics represents the full diversity of Chicago. They participate in several official competitions, host, organize, and present training workshops, robotics events, and outreach events. They started LevelUP, a youth makerspace in Ford City Mall, to provide youth a year-round space to MAKE to Learn and LEARN to Make.
ABOUT THE MUSEUM OF SCIENCE & INDUSTRY, CHICAGO:
The Museum of Science and Industry, Chicago (MSI), the largest science center in the Western Hemisphere, is home to more than 35,000 artifacts and nearly 14 acres of hands-on experiences designed to spark scientific inquiry and creativity. Since opening their doors in 1933, they've welcomed more than 175 million guests from around the world. Their mission, to inspire the inventive genius in everyone by presenting captivating and compelling experiences that are real and educational, is realized through world-class exhibits such as: Science Storms, the newest permanent exhibit revealing the science behind some of nature's most powerful phenomena; YOU! The Experience, an exhibit that lets you explore what it means to live a vital, healthy life in the 21st century; and the U-505 Submarine, the only German U-boat in the United States.
Even bigger than their mission is their vision, which is to inspire and motivate children to achieve their full potential in the fields of science, technology, engineering and medicine. In addition to their fun and interactive exhibits, the Museum's Center for the Advancement of Science Education (CASE) is continually developing and facilitating student learning labs, after-school science clubs, teen volunteer programs, teacher development classes and community outreach—all ways in which MSI makes science come alive for children and adults of all ages.
About Maker Faire:
Maker Faire is the Greatest Show (and Tell) on Earth—a family-friendly showcase of invention, creativity and resourcefulness, and a celebration of the Maker Movement. It's a place where people show what they are making, and share what they are learning.
Makers range from tech enthusiasts to crafters to homesteaders to scientists to garage tinkerers. They are of all ages and backgrounds. The aim of Maker Faire is to entertain, inform, connect and grow this community.

The original Maker Faire event was held in San Mateo, CA and in 2016 celebrated its eleventh annual show with some 1300 makers and 150,000 people in attendance. World Maker Faire New York, the other flagship event, has grown in five years to 900+ makers and 90,000 attendees. Thirty-one larger scale Maker Faires occur in cities around the world—Detroit, Atlanta, Berlin, Paris, Rome, Tokyo, and Shenzhen to name a few— and over 150 community-driven, independently organized Mini Maker Faires are now being produced in the United States and in 34 other countries around the world.
About Make: Magazine: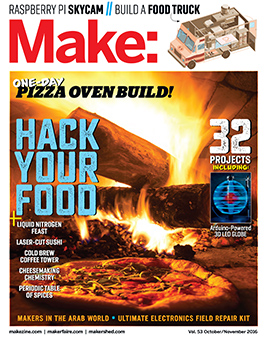 Make: is the first magazine devoted entirely to Do-It-Yourself (DIY) technology projects. Make: unites, inspires, informs, and entertains a growing community of resourceful people who undertake amazing projects in their backyards, basements, and garages. Make: celebrates your right to tweak, hack, and bend any technology to your will. Download a free issue here.
Besides the magazine and the faire, Make: is:
a vital online stream of news and projects, blog.makezine.com;
a retail outlet for kits and books, the Maker Shed;

a steady stream of fun and instruction via our YouTube channel;

Make: Projects, a library of projects with step-by-step instruction;
a publisher of best-in-category titles via Make: Books, including introductions to electronics, Raspberry Pi, 3D printing, Arduino and more.